Lion Brand discontinued cotton-ease, but I feel like I should click back to
Smiley's
and order it up in every color!!! It is so very nice to work with, and the color is brilliant! I'll spare you photos until I am further along!
And just so we're straight, it is a good thing those little voices were speaking to me, because
Sitcom Chic
was the perfect knit for Saturday afternoon, when I needed something (you know: knit, knit, knit, with no pattern to really follow!). But it is back to finishing the
Oh My Darling Clementine
this week (no photos of THAT until it is finished!).
Finished Lolita this weekend . . .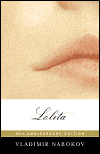 next up on the reading pile . . . not sure still, thinking!